PATRICK SCHREIBER - political!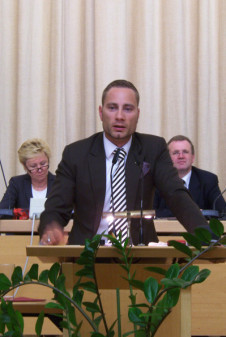 Some of you might ask how and why I am politically motivated.
It all began with the so called elections. I was always amazed of, be it communal, state or federal elections. I was amazed by either the results or the whitewash talk of the results by each of the particular political opponents. At some point I became curious to know what lay behind the election process.
I was glad when the CDU won an election. This was partly because of Helmut Kohl, which was my role model, and partly due to reunification in Germany. It was and still is self-evident or taken for granted for a lot of people.
Thus in 1996 I joined the Youth Union (Junge Union) and have since held numerous political positions in the Pupils Union (Schüler Union), Youth Union and CDU.
In 1997 I was elected as the state vice-chairman of the Pupils Union and represented it as a chairman from 1998- to 2000.
In addition, from 1999 until 2005 I was a committee member in the Youth Union Saxony and Lower Silesia (Niederschlesien) and in 2005 was voted as the state vice-chairman of the Youth Union Saxony and Lower Silesia (re-elected in 2007). Following 12 years of vice-chairman and chairman membership in the Youth Union in Saxony I retired from the panel in April 2009.
Besides the work in youth organizations, I also joined the CDU in 1997 and was from 2001 until 2004 part of the local city council advisory board (Ortsbeirat) in Dresden – Neustadt.
In 2004 I succeeded in joining the Dresden city council (Stadtrat). I was part of the city development & construction panel, allotment garden panel, the committee for city hospitals and preschool facilities and the youth welfare services panel, which I am still part of today. Furthermore I was also a member of the board of directors for Technischen Werke Dresden (TWD).
In fall 2008, the CDU members in the electoral district 45 –Dresden 3 nominated me as the running candidate for the state elections in Saxony on August 30th 2009, together with a nomination for the top candidate for the city council election May 7th 2009 in the electoral district 3 – Dresden Neustadt.
June 7th 2009 the citizens in electoral district 45 in Dresden 3 (Neustadt) re-elected me in the Dresden city council. I was able to double the votes casted for me since 2004. For that I would personally like to thank my constituents and their trust in me and the CDU in the Neustadt. On September 2nd 2009 I left the Dresden city council in order to thoroughly focus my attention and time on my work at the Landtag and my electoral district.
Following a harsh but interesting election campaign in July and August 2009, I was elected by the citizens of the electoral district 45 in Altstadt, Neustadt, Johannstadt and Friedrichstadt as a representative in the Saxon state parliament.
 
 
 
1996
 
Joined the Youth Union Saxony & Lower Silesia
 
 
 
1996
 
Joined the Pupils Union Saxony (one of the founding members)
 
 
 

1997-

1998 

 
Financial consultant in the Pupils Union Saxony
 
 
 
1997
 
Joined the CDU Dresden
 
 
 

1997-

1998

 
Vice-chairman of the Pupils Union Saxony
 
 
 

1998-

2000

 
Chairman of the Pupils Union Saxony
 
 
 

1999-

2005

 
Committee member of the Pupils Union of Saxony and Lower Silesia
 
 
 

2000-

2003

 
Financial consultant of the Pan-European Youth district chapter Dresden
 
 
 

2001-

2003

 
Executive board member in the local CDU district panel Dresden-Neustadt
 
 
 

2001-

2004

 
Member of the local city council advisory board in the city district of Dresden Neustadt
 
 
 

2002-

2005

 
Member of the state executive board of East- and Centre-German Association (OMV)
 
 
 

2002-

2004

 
Member of the county executive board of members of the Youth Union Dresden
 
 
 

Since

2003

 
Chairman of the local CDU committee Dresden-Neustadt
 
 
 

2004-

2010

 

City council in the state capital Dresden

- Youth spokesperson in the CDU parliamentary group

- member of the committee for city hospitals and preschool facilities

- member of the city development & construction panel

 
 
 

since

2004

 
Member of the Dresden youth welfare services panel
 
 
 

2005-

2009

 
Vice-chairman of the state board of executive members of the Youth Union Saxony and Lower Silesia

 

 
 
 
2008
 
Nomination for the running candidate in the electoral district 45 – Dresden 3 for the state elections 30th August 2009
 
 
 
2009
 
Nomination for the top candidate for the city council election May 7th 2009 in the electoral district 3 – Dresden Neustadt
 
 
 
06/2009
 
Re-election in Dresden city council electoral district 45 in Dresden 3 (Neustadt) with a result of 3,649 votes (2004: 1,940 votes)
 
 
 

Since

09/2009 

 
Member of the Saxon state parliament as a directly elected representative of the electoral district 45 – Dresden 3

- Youth spokesperson in the CDU parliamentary group

- Member in the committee for Social policies & Consumer protection

- Member in the committee for School and Sport

- Member in the 2nd review board of the Saxon judge- and real estate-

  affair ("Sachsensumpf")

- Member in the committee for youth welfare services

  (Landesjugendhilfeausschuss)

- Member in the board of trustees of the Saxon centre for political

  education (Landeszentrale für politische Bildung)

- vice-chairman of the review board

 
 
 

Since

11/2010

 
Chairman of the CDU trade association for small and medium businesses in Dresden (MIT - Mittelstands- und Wirtschaftsvereinigung)