PATRICK SCHREIBER - private!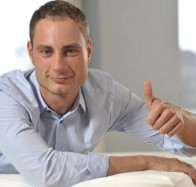 I was born November 8th 1979 in Dresden in the St. Josephstift Hospital in Johannstadt.
After my Abitur 1998 at the Romain-Rolland-Gymnasium Dresden, I completed my military service (1998-1999) in Bayreuth, Holzdorf and Dresden.
Subsequently, I began an apprenticeship as a professional-expert in the food industry (Restaurantfachmann) at the Hotel Westin Bellevue Dresden in 1999.
From 2000 to 2007 I studied at the Technical University of Dresden (TU Dresden) with a major in Contemporary History & Romance studies (Spanish) and a minor in Politics, which I ultimately graduated as a Historian (Masters Degree).
I am unmarried and live in Neustadt since 1999. I am self-employed and active in the media & advertising industry and have founded an Event and Marketing agency in 2008 in Dresden.
In my spare time I enjoy playing sports, become involved in my volunteering projects and become occupied with photography and graphic design. Through various activities with my friends I am able to find a balance between my everyday political and private life. What helps me most of all are my cats Fritzi and Bruno, who longingly waits for me at home every night.